Key Stage 3 (Y7-Y9)
Key Stage 3 covers the transition from Primary to Secondary education. At this stage, pupils take on greater academic responsibility with a diverse range of subjects, a timetable of lessons and increased amounts of homework. However, with that comes the reward of discovering the areas of learning about which they are most passionate.
Pupils in Key Stage 3 study a range of different subjects at Amity International School, Abu Dhabi in order to become comfortable with a variety of study areas. This helps them to choose which to study as separate courses in Key Stage Four.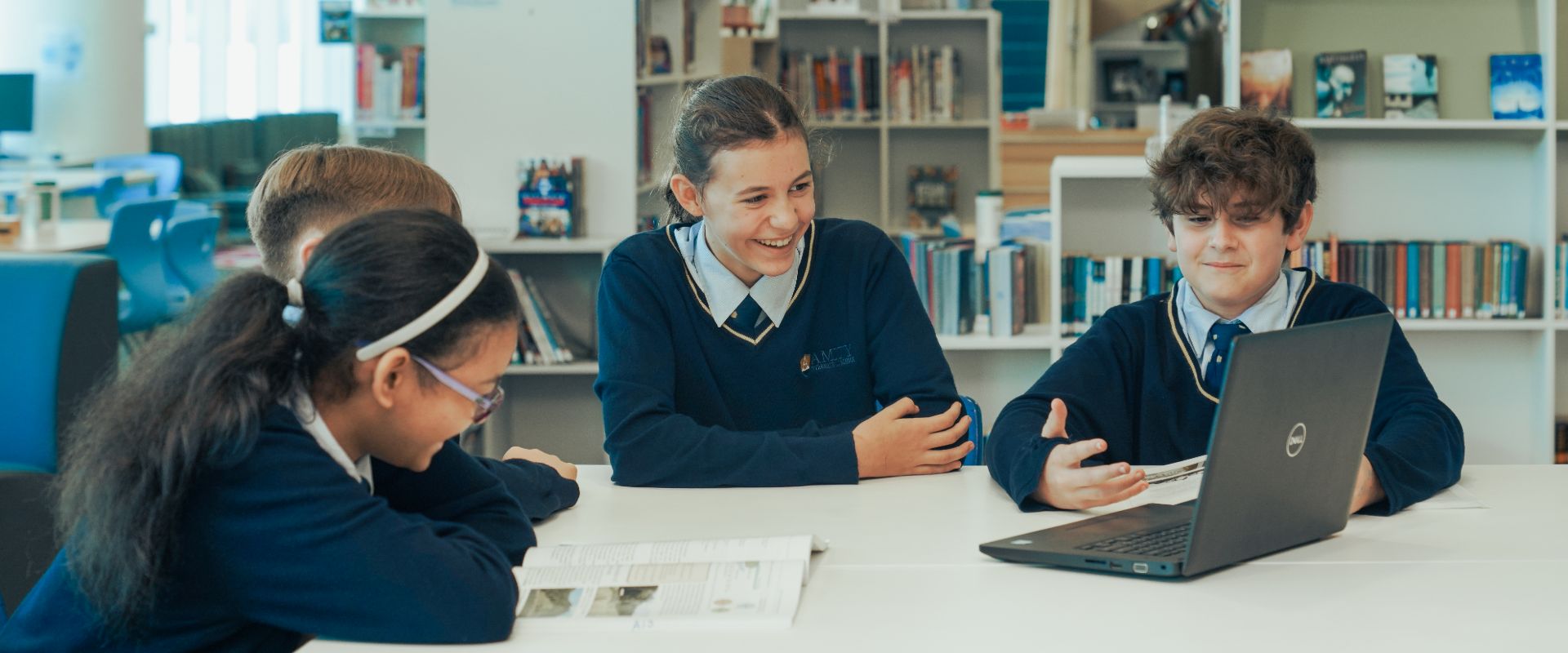 Skill Levels and Learning Groups
We teach some of our subjects in sets in Years 7-9, which means pupils will be in a class with others who have about the same ability level as them in that subject. This is how we organise Mathematics, English, Foreign Languages and Science. We teach the remainder in mixed ability groups, so that pupils study other subjects such as History, Geography and Art in their Form group.
In all groups, the work is differentiated so that pupils will be challenged at their own level, allowing them to reach their full potential. We find this balance of sets and mixed ability works well as it gives pupils the opportunity to progress at their own pace and allows them to mix with more people.
---
Subjects taught in Key Stage 3
All pupils at Amity International School study the following subjects:
Arabic
Art
Computer Science
Design Technology
Drama
English
English as an Additional Language (EAL)
French
Geography
German
History
Islamic Studies
Mathematics
Music
Physical Education
Personal, Social, Health and Moral Education (PSHME)
Science
Spanish
---
How our Key Stage 3 pupils are assessed
We pride ourselves on being at the forefront of successful British educational strategies. One that we fully embrace is Assessment for Learning (AFL). AFL is based on structured feedback that is specific to an individual, and guides their future progress, as opposed to the simple ticks and crosses of the past.
We have a specialist team of teachers whose responsibility is to ensure that best AFL practice is followed throughout the whole school. They make sure that assessment is not only a meaningful tool for the teacher to track progress and take learning further, but is also, more importantly, a significant part of a pupil's learning practice.
All subjects use a variety of assessment techniques throughout the academic year, including peer and self-assessment, teacher assessment of group and individual work and marking of tests. Pupils may also be given end of topic/unit tests in some subjects which help to reinforce the learning covered in class. On entry to our school, each pupil is assessed using the GL Assessment CAT series. This gives a baseline from which we can track individual progress throughout the pupil's time in our school.